Dental Crowns and Bridges
What are dental crowns and bridges?
If you have one or more missing teeth, your dental professional may recommend that you get artificial replacements. There are removable options like dentures that you can take out and clean, but those can slide around, shift, or fall out – which understandably won't fly for many people. And that's why there are crowns affixed to dental implants and bridges which function more like your actual teeth. But between crown implants and bridges, which option is the best choice for you? We'll break down the similarities, differences, advantages, and disadvantages between these two fixed artificial tooth options so that even if you have a fake tooth or two, you'll have a smile that's as real as can be.
What's the Difference Between Dental Crowns and Dental Bridges?
A dental crown can cap an individual's damaged or decaying tooth or be placed on top of a dental implant to replace a missing tooth. Dental implants are metal fixtures, surgically fastened to your jawbone below the gums. These metal implants become anchored to your bone through osseointegration (the bone fuses to the metal). This process provides stable support you can rely on while eating and speaking. According to the Cleveland Clinic, the healing process after getting an implant can take 6-12 weeks. Your dental professional will then place a metal post (or abutment) into your implant, onto which they will mount your crown.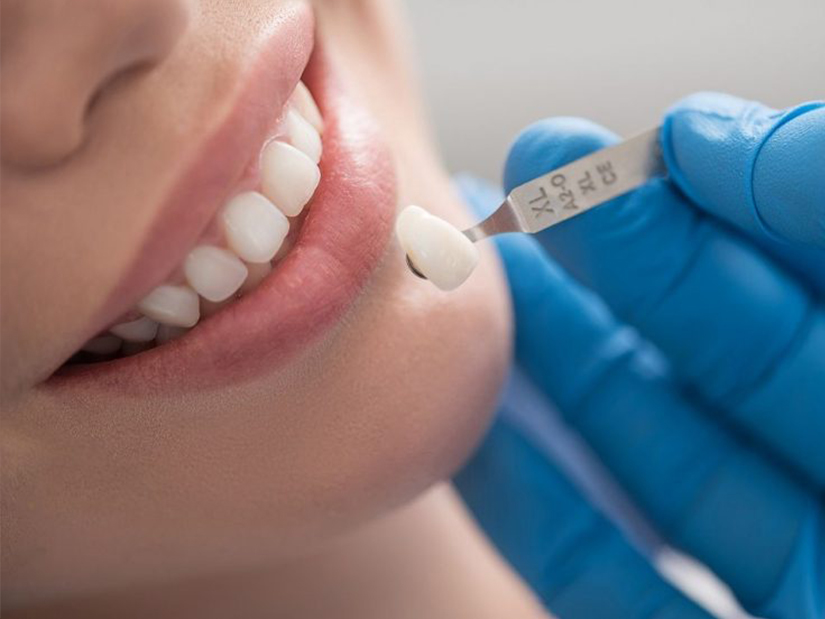 Bridges, on the other hand, are solely used to replace missing teeth. They have two crowns – one on either end – and a bridge of replacement teeth that rest in the area of the gums where there is tooth loss. The crowns at the ends of a bridge can fuse to existing teeth (that need to be filed down by a dental professional to fit correctly), or your dental professional can attach them to dental implants.
Whichever of these replacement tooth options is best for you – they can be vital in maintaining your oral health. Gaps in areas of loss can cause your other teeth to begin rotating or shifting into the empty spaces, resulting in a bad bite. And missing teeth can even lead to gum disease and temporomandibular joint (TMJ) disorders.
Signs You Need A Dental Crown
A broken tooth with no visible signs of decay
The patient is sensitive to biting pressure and temperature, especially when it is chilly.
There is a lot of degradation. There will not be enough tooth structure left after your dentist in Airdrie removes the decay to support a filling.
The patient has had or will have root canal therapy.
A huge silver (amalgam) filling in the tooth is deteriorating.
Signs You Need A Dental bridge
One or more teeth are missing from the patient.
The patient now wears a removable partial denture and wishes to upgrade to a more permanent option.
A bridge may be recommended if you're missing one or more teeth. Gaps left by missing teeth eventually cause the remaining teeth to rotate or shift into the empty spaces, resulting in a bad bite. The imbalance caused by missing teeth can also lead to gum disease and temporomandibular joint (TMJ) disorders.
Bridges are commonly used to replace one or more missing teeth. They span the space where the teeth are missing. Bridges are cemented to the natural teeth or implants surrounding the empty space. These teeth, called abutments, serve as anchors for the bridge. A replacement tooth, called a pontic, is attached to the crowns that cover the abutments. As with crowns, you have a choice of materials for bridges. Your dentist can help you decide which to use, based on the location of the missing tooth (or teeth), its function, aesthetic considerations and cost. Porcelain or ceramic bridges can be matched to the color of your natural teeth.
Benefits Of Dental Crowns
Reduces the pain and sensitivity associated with a broken tooth.
It prevents a crack from spreading and harming the tooth's nerve.
It improves the appearance of teeth that are damaged or have extensive silver fillings.
Improves occlusion (bite) to help prevent or relieve TMJ pain.
Benefits Of Dental Bridges
It promotes a balanced bite, lowering the danger of adjacent teeth becoming overly stressed.
Allows patients to eat without difficulty
Aids in the preservation of the patient's facial form
It affects neighboring teeth by preventing them from moving.
How are Crowns and Bridges Made?
Before either a crown or a bridge can be made, the tooth (or teeth) must be reduced in size so that the crown or bridge will fit over it properly. After reducing the tooth/teeth, your dentist will take an impression to provide an exact mold for the crown or bridge. If porcelain is to be used, your dentist will determine the correct shade for the crown or bridge to match the color of your existing teeth.
Using this impression, a dental lab then makes your crown or bridge, in the material your dentist specifies. A temporary crown or bridge will be put in place to cover the prepared tooth while the permanent crown or bridge is being made. When the permanent crown or bridge is ready, the temporary crown or bridge is removed, and the new crown or bridge is cemented over your prepared tooth or teeth.
How Long do Crowns and Bridges Last?
Sometimes crowns and bridges can become loose or fall out from the damage caused by chewing hard foods, ice, or other hard objects. Dental disease that causes tooth or bone loss is another reason crowns or bridges may loosen over time.
By practicing good oral hygiene, however, crowns and bridges can last a lifetime. Brush at least twice a day, floss or clean between your teeth with interdental brushes or water flossers at least once a day, and consider using other helpful products like antimicrobial mouth rinses and tongue scrapers. Be sure to see your dental professional for regular cleanings – not only to keep your teeth pearly white and bacteria-free but also to check the health of your crown or your bridge. Whether you and your dentist decide on a crown or a bridge for your replacements, we hope your new teeth make you smile.
A perfect smile guaranteed